Calling all professional home decorators, amateur enthusiasts and those who like to decorate regularly: one thing you should all know is the difference between a braided rug, a hand-knotted rug or a flatweave. If you don't, read on. If you do, read on anyway; you might learn something new!
Braided rugs are durable, and ideal for high traffic areas such as hallways, offices, and living rooms.The were first made by early American colonial settlers who used rags and strips of cloth or lace braided together and woven into a oval, round, or rectangle shape. It has no pile, and these days is machine-braided too. Braided rugs are usually colourful and relatively cheap in comparison to other types of rug.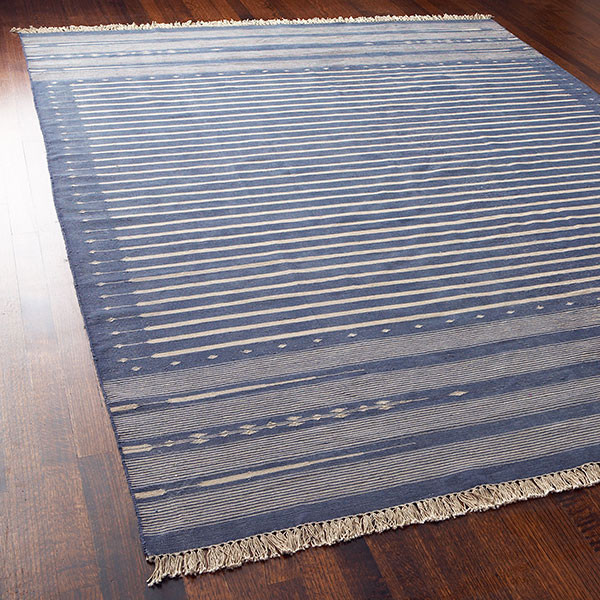 photo credit: Houzz
Flatweave rugs (above) have a low-pile with almost no height to the rug thereby offering a sleek finish. Usually, rug pads are used underneath the flatweave to stop the rug from moving or slipping. The flatweave offers a minimalist feel and can often be reversed thereby giving double the usage. They are hand woven in a flat weave pattern. Soumak, Dhurrie, kilim and braided (as above) are all types of flat weave rugs. 
                                                                                           photo credit: Pinterest
Hand-hooked rugs (above) have a short-looped pile. Some may feature a fine petit-point technique. The rugs are made on a loom and then knotted by hand. The  The size of the rug depends on the size of loom used and the rugs are weaved bottom to top. It is an ancient art still practised in many countries today and is a time-consuming practice. In fact, some of the larger sized rugs can take up to a year to make, hence the cost.
Hand knotted rugs are made by knotting wool or silk one by one. The best known  are the Oriental rug. Hand-knotting is a great skill and the artist takes longer to make this type of rug than any other type of rug making process. The quality is defined by the number of knots per square inch. The more knots, the higher the quality of the rug and are considered to be collectible works of art, which can last for generations if properly maintained.
photo credit: High Fashion Home