The World Architecture Festival concluded earlier this month after 2,000 architects and designers met at Moshe Safdie's Marina Bay Sands Hotel in Singapore to celebrate the world's most impressive architectural design and builds in 2014.
The world's largest architecture festival culminated with the award for World Building of the Year going to the Chapel- a21studio and the Future Project of the Year was given to Art Gallery of Greater Victoria – 5468796 Architecture + number TEN architectural group.
In total, 33 buildings were honoured for their innovative design including a community library in China which also doubles as a playground; a Danish Maritime Museum and an uber modern church in Spain.
The 400-project short list spanning 50 countries was somehow whittled down to the 33 winners across 27 different categories. The designs are unique, innovative and futuristic in their use of energy and in terms of how they envision life of the future.
Check out The Huffington Post article here has an excellent shortlist of the award winners with fab drawings and images of buildings that already exist and those that are earmarked to be built in the future. Be prepared to be astounded by their sheer physical beauty and imagination. Below are two impressive designs
If God really exists then he must be in the light,right? So if there's one way of attracting him into a Congregational building of worship, it's by allowing a sense of the outside in, through natural light. There are three courtyards for social events, in the 'shadow' of a roof that "unfolds" making this church modern, light and welcoming. It might even attract a visit from me!
Transport: UK: Scale Lane Bridge, Hull by McDowell+Benedetti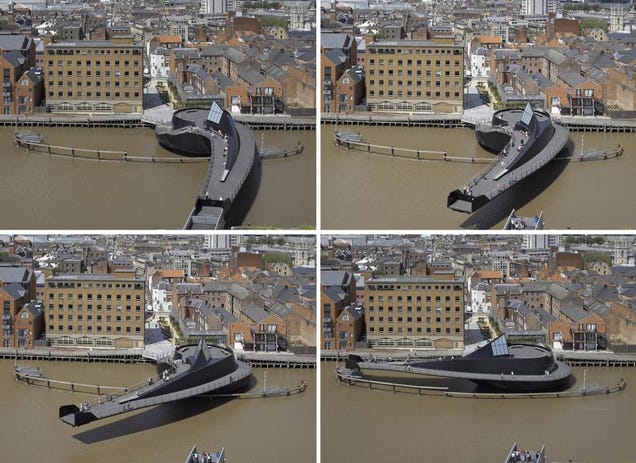 This unique pedestrian bridge apparently won a design a bridge for Hull competition seven years ago and it's now been recognised internationally. Reminiscent of a giant apostrophe, the Scale Lane Bridge officially opened in 2013. The bridge opens out to allow boats and barges through and pedestrians can actually stay on the bridge as it opens out if the weathers nice (which isn't often in Hull, so I've heard!)